Get Expertly-Written WordPress Content Done For You Monthly With PLR!
(Watch the video above ... it explains everything you need to know!)
***
Dear WordPress Service Providers & Internet Marketers,
This special offer is not going to remain available for long on this page, so please read the information below carefully and act quickly to secure your spot at the special price shown below!
What Is This Special Offer All About?
I have recently launched PremiumWP.Services - a unique and time-saving membership service that provides expertly-written "publish-ready" articles and tutorials about WordPress every month with private label rights.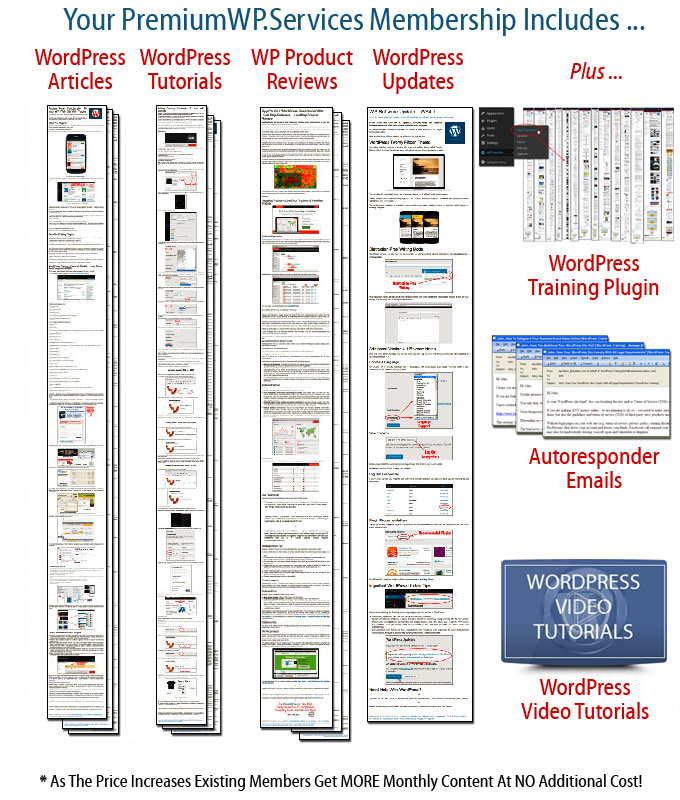 For the full sales letter that explains everything about this unique service, please visit our website:
http://premiumwp.services

If you watch the video above, you will see that the exclusive content we create for members every month is unlike anything you will be able to get from outsourced article writers or content creation services on sites like Freelancer, O-Desk, etc, or find on any other PLR sites.
Not only is the content we provide different in terms of quality, it is also cheaper to get content about WordPress from our service than using any other option.
Why Pay MORE Money To Get LESS And POORER Quality Content?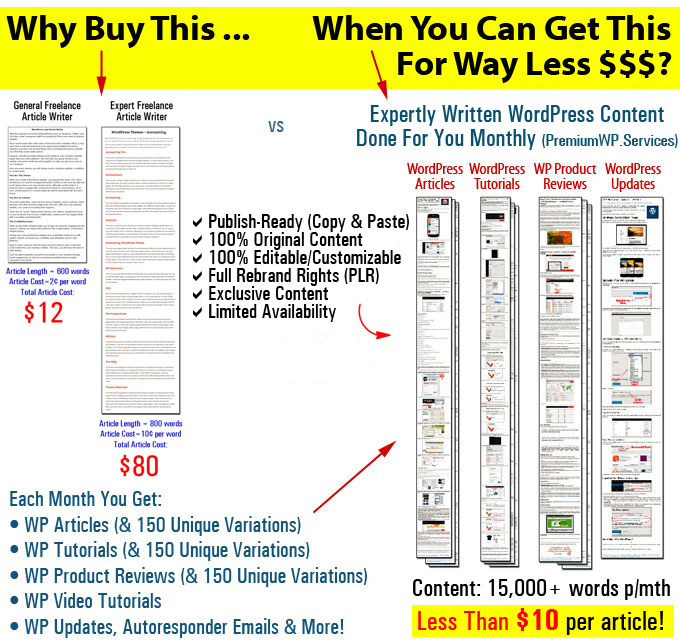 If you watch the video above, visit our website and go through the content on our demo site, you will see that being a member of PremiumWP.Services works out to be cheaper than hiring cheap freelance writers at $2-$3 per article.
If your time is worth just $35/hr, you will save at least $7,583 per month using our service!
Here's why:
It takes at least 50 hours per week to create all the content that we provide for members each month. If you had to do the same work yourself and your time was valued at $35/hr, that's $1,750 a week, or $7,583 a month!
Our articles and tutorials average 1,200 - 2,000 words, take a long time to create and cost way less than anyone else would dare charge you to write content of similar quality and expertise, so why even consider wasting money outsourcing to cheap freelance writers?
If you need great content about WordPress to publish regularly on your site, you simply won't find better quality and value for money than what I am offering you here.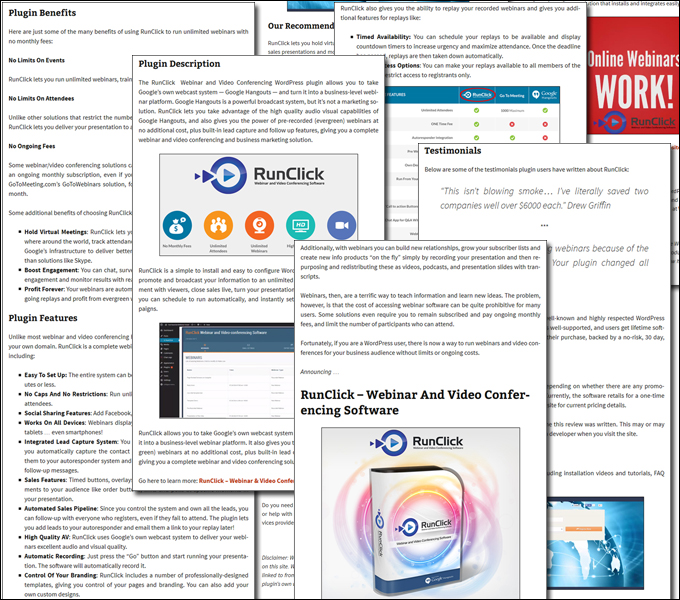 Here Are Just Some Of The Benefits Of Using Our Expertly-Written WordPress Content ...
Save Time Writing Content - The content is "done for you" and "publish-ready". The video above shows you how to schedule an entire month's worth of expertly-written content literally using "copy and paste", saving you the time of having to create web content and allowing you to spend your valuable time more productively.
Save Money On Outsourcing - You get great content with "no fluff" ... only 100% information of real substance and value to users, written by a WordPress expert with 8+ years of experience teaching and training businesses about WordPress, and designed specifically to help grow your business. As mentioned above, you will not find better quality content about WordPress for a cheaper price ... guaranteed!
Drive More Traffic To Your Site - You get unique organic and "real" content that engages visitors and is naturally optimized for search engines. On average, each article contains 1,200 - 2,000 words of expert content, plus screenshots, SEO-optimized post articles, post excerpts, tags, image alt tags, etc. all "done for you".
Get More Clients & Sell More WordPress Services - You get expertly-written original content about WordPress as part of a complete entire WordPress content marketing strategy that helps you educate your visitors, keep in touch with your subscribers and train your clients.
Unique Competitive Advantage - While your competitors are "too busy" to write content and look for new clients, you can do both. You get "publish-ready" content with hundreds of unique article variations and private label rights, allowing you to publish unique content to your websites, blogs, social media sites, etc. with your name as the author and enjoy massive leverage 24/7. This is an exclusive and limited membership offer - once we close the doors, your competition will be left wondering how you can publish so much content regularly to your site and still find time to service new clients!
Create Additional Revenue - Many of the articles and reviews we create for you contain affiliate links to premium WordPress products like plugins and themes, allowing you to generate additional revenue using your own affiliate links.
Who Is This Special Offer For?
If you currently sell any type of WordPress-related services, such as web design, website development, WordPress installations, web development, internet marketing consulting, WordPress site management, WordPress support, webhosting, etc.
If you currently promote WordPress products as an affiliate marketer or internet marketer,
If you plan to start any business that sells or promotes WordPress services or products.
About Me
My name is Martin Aranovitch, I'm a WordPress educator and a WordPress trainer and I've spent years teaching businesses and non-technical users how to use and grow a business with WordPress.
I also have years of experience writing about WordPress and creating WordPress training products.
You can read more about me here.
How You Will Benefit From My Years Of Experience Teaching & Training Others About WordPress
My areas of expertise are teaching and training. I love WordPress and have built hundreds of WordPress sites, including dozens of sites for business clients.
I realized early on that most people who are willing to pay others for WordPress services are non-technical users. To sell WordPress services, therefore, I had to spend a lot of time educating business owners about the benefits of using WordPress and why they should choose WordPress instead of another "web" platform, and then spend time afterwards training them to use WordPress. This started me on the road to creating tutorials and training guides.
Since discovering WordPress, I've written hundreds of WordPress tutorials and published a number of comprehensive WordPress training guides. I have also received many wonderful testimonials from people that I've helped with WordPress over the past 8+ years.
In fact, part of the unique content that is made exclusively available only to members of PremiumWP.Services comes from some of the hundreds of tutorials I have spent years writing, which I've never published online before for public access (only in publications like e-books and private membership sites, or in part as teasers to my products).
The tutorials I make available to members through this exclusive service have been completely updated and manually rewritten with hundreds of unique variations built into each article to ensure that no two versions are identical.
You Get A Complete Ready To Publish WordPress Content Marketing Strategy Done For You!
It has taken me years to develop the skill to create articles and tutorials that educate and engage visitors and "sell" the benefits of WordPress to non-technical minded visitors. Through PremiumWP.Services, you can leverage my hard work, skip the tedious and time-consuming task of writing web content for your own WordPress-related business and spend your time more productively.

I have taken my 8+ years of experience teaching and training people about WordPress and developed a complete WordPress content publishing system where all of the hard work has already been done for you.

In the video above you can look over my shoulder as I show you live (and unedited) how to prepare, customize and schedule an entire month's worth of expertly-written content about WordPress on your site in less than 20 minutes ... all without writing or changing a single word of the content yourself, and using nothing but "search and replace" and "copy and paste."

The comprehensive articles and detailed tutorials and plugin reviews you see me publish in the video are not "fluffy" blog filler articles either ... they contain over 6,500 thousand words, dozens of images, internal linking, SEO optimized elements like post titles, post excerpts, tags, alt tag text, etc.
You can also see the actual content that you will get as a member with examples of the unique variations shown in the video on our demo site: http://premiumwp.services/demo
Okay Then ... What's The Special Offer?
If you visit my website (http://premiumwp.services) you will see that the membership is currently priced at $67 per month.
As I have mentioned several times, this is an exclusive membership service and there are only limited spots available. I plan to keep the membership number low to maintain the uniqueness and exclusivity of the content for existing members.
After all spots for members joining at the $67 price level is reached, the price will go up to $97 per month, and then probably rise again. When all available membership spots are taken, I will permanently close the doors to new members.

The way PremiumWP.Services works is this:
Your monthly membership price is locked in for life at whatever price you join.
To keep this unique service exclusive, I have to limit the number of members who can join.
The smaller the membership, the higher the price has to be to ensure that the business remains viable and sustainable.
As stated on our website, as the membership price goes up, we'll add more monthly content for all members. This rewards existing members for their support with progressively MORE content at LESS cost and ensures that everyone who joins gets more value for their higher membership fee, not just a price increase.
So ... in light of the above, I can only make this special offer available to a small number of new members and for a very limited time only.
Click on the button below to join PremiumWP.Services and permanently "lock in" your monthly membership at the price shown below instead of the higher price advertised on our website ($67 - $97 per month).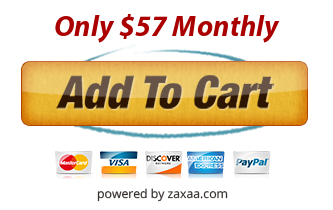 ***
What Members Get Each Month: Content Summary
At the current price level, PremiumWP.Services members receive the following content each month:
WordPress Articles / Blog Posts - At least 2 expertly-written articles per month (average 1,000+ words each with screenshots) + 150 unique variations & Private Label Rights. 100% original content.
WordPress Tutorials - At least 3 expertly-written tutorials per month (average 1,200+ words each with screenshots) + 150 unique variations & Private Label Rights. 100% original content.
WordPress Product Reviews - At least 2 expertly-written product reviews per month (average 1,200+ words each with screenshots) + 150 unique variations & Private Label Rights. 100% original content.
WordPress Video Tutorials - At least 2 videos per month (note: videos are created externally - see special notes in FAQ section).
WordPress Updates - Members receive "ready-to-publish" blog post updates whenever WordPress releases a major version with new features.
Autoresponder Emails - Members currently receive a 10-part monthly email training series for their clients and subscribers. Emails are mostly original content with occasionally some rewritten PLR.
Additional Content - Additional training courses and videos for your visitors, subscribers and clients. Content is sourced externally and often comes with Master resell or resell rights.
You are locking in this low monthly price for the lifetime of your membership. As the price of the membership increases, more content will be added at no extra cost to existing members!
***
This special offer is for a limited time only and I reserve the right to raise the price or close this offer down at any time without notice.
How To Take Advantage Of This Special Limited Offer
This is not for everyone, and I am not using "scarcity" tactics to get you to buy. If you don't see the value in this offer, then please don't buy.
If you want to see what the content you will be getting each month actually looks like, please visit our demo site. I've posted some of the actual articles, tutorials, plugin reviews, email training content and WordPress updates members are downloading from the Members area.
If you want to know more before making your decision, then please watch the video above, go through the sales page on my website, read some of the articles and faqs I've posted on our blog, email me your questions, search my name on Google (Martin Aranovitch) ... do whatever you need to do before clicking the "buy" button. I guarantee that even if you decide to join at a higher price later, you will still find that the membership offers you "insane" value for money.

One last thing ... there are no OTOs and you get everything you see on our sales page ... just at a lower monthly price than everyone else and only while this special limited offer lasts!
If you sell or promote WordPress products or services and you can see the value and the benefits on having expertly-written content about WordPress done for you each month, then click on the button below to join, and I look forward to welcoming you inside the PremiumWP.Services members area ...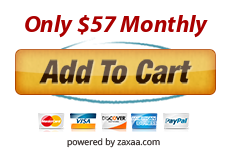 ***
FAQ:
Q: Where can I view full details about this offer?
For full details about this offer see the salespage on our website: PremiumWP.Services
Q: Can I see actual examples of the content I would be getting each month as a member?
You can see what the content you will be getting each month actually looks like by visiting our demo site. I've posted some of the actual articles, tutorials, plugin reviews, email training content and WordPress updates members are downloading from the Members area.
Q: Is the content 100% original?
Yes. All the written content constituting the offer (i.e. articles, tutorials, plugin reviews, screenshots and even the email training series content) are 100% original content created by me entirely from scratch. The videos and some of the extras included in the members download area are sourced externally and clearly marked as such in the member's area. I include these only as accompanying materials to the written content. Future plans for the membership include creating our own videos and other content, as we will then be able to keep these updated and offer the same PLR rights as the written content.
Q: Are there any OTOs?
No.
Q: Do you offer a money-back guarantee?
Yes. Absolutely! Your purchase is covered by a 30-day 100% money-back guarantee.


http://wptraining.zaxaa.com